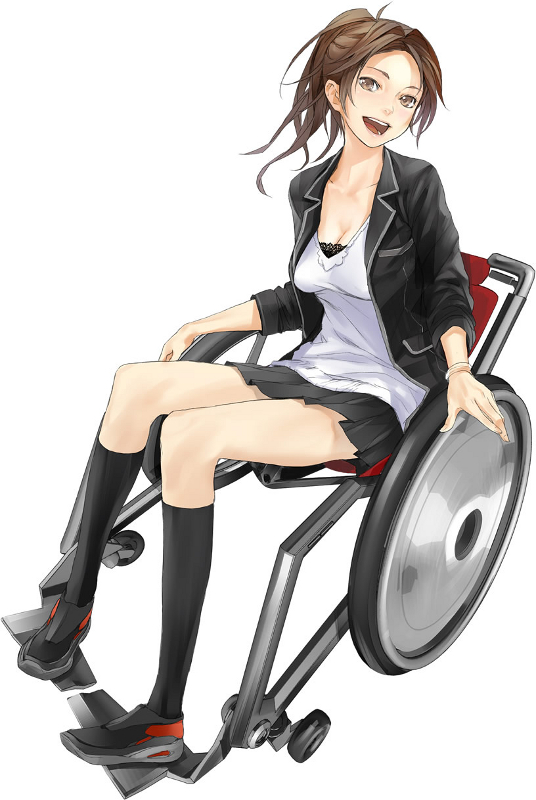 Name:
Ayano Miura
Birth Date:
December 1st, Y97
Age:
17
Special Characteristic:


Paraplegia Paralysis - Aya is paralyzed from the waist down.

Greek Goddess Bloodline - Aya is a daughter of Athena.

Eidetic Memory - Also known as photographic memory, Aya's mind instantly memorizes anything she sees.

Multilingual - Aya is fluent in more then one language.

Spoiler:

Flame of Rain (Fiamma di Pioggia)

Color:

Blue

Characteristic:

Calma (鎮静,

chinsei

lit. Tranquility)

Japanese Translation:

Ame (雨)

Ability:

Appeasement and dulling

Description:

Rain-attribute Flames are in many ways more similar to water than actual flames. Its Tranquility special trait carries the meaning of stillness and pacification. Thus, these Flames can be used to weaken a target by robbing its strength and capacity of movement. Very rarely, they can even be used to create ice. They cannot be used for combat without appropriate skills.

Appearance:

The Rain Flames have shimmers of some kind flowing through them, giving them an appearance similar to rippling water. The core is of a distinctively dark blue and the ever oscillating outer sections are of a more light tone of blue.

http://vignette3.wikia.nocookie.net/reborn/images/8/8a/Rain_Flame.PNG/revision/latest?cb=20100404113518NOTE:

This will not be used for battle purposes. It is only the description of the flame. If I do intend to use it in battle, I will register it as a skill.
Personality:
Aya is a kind and friendly girl. She is willing to do almost anything for almost anyone. She is pretty sociable too. She's always looking to meet a new friend. Preferably one that doesn't really treat her any differently or mind her disability. Aya isn't completely honest, but isn't dishonest at the same time. She's a good mixture of both. She most often tells the truth but if it's for a good reason, she will lie. Aya is a highly intelligent girl as well. Her brain was always swarming with millions of facts and has always had the urge to correct people when they got something wrong. Another negative trait about Aya is that she could be rather impatient. She doesn't really like waiting around for a lot of things. She does tend to get bored pretty easily, which is why you would most commonly see her with a book, just in case she does get bored, or if she just has the urge to read.
Likes:


Reading - Aya has always loved reading, as it has been some of the few activities she could do outside of school and such.

Helping Others - While feeling quite helpless herself at times, it makes Aya feel good to help people in any way.

Trying New Things - Aya has always loved trying new things, especially when it came to foods (she really loves new foods)

Dislikes:


Feeling Helpless - Aya has always had people doing things for her and couldn't do a lot of things herself. There were some times when she tried to help people, and she couldn't because of her disability, and she really didn't like that.

Mornings - Aya is definitely not a morning person. She really just hates mornings and would prefer just to sleep in.

Fears:


Drowning - While Aya isn't afraid of water itself, she is afraid of drowning. Reason being, she cannot swim.

Spiders - Aya, like a lot of Athena kids, has a huge case of arachnophobia. It is the only kind of creature that she hates.

Motivation:


Knowledge - Being a child of Athena, Ayano has a natural craving for knowledge. She wishes to obtain as much knowledge as possible.

Growing Stronger - Just because she's paralyzed, doesn't meant that she doesn't want to become stronger. She wishes to become even stronger then people who doesn't have her disability.



Height: 170.18 centimeters
Weight: 51.7 kilograms
General Appearance: Aya has long, brown hair. It is slightly wavy and she normally styles it in a single pony tail. Unlike a lot of children of Athena, Aya has brown eyes, instead of gray. Her skin is smooth and tanned. She supposes that she's pretty thin. Aya is in between tall and average sized for her age. However, that really doesn't matter since she is confined to a wheelchair. Clothing wise, you will most commonly see Aya dressed in some kind of shirt and a skirt. She will rarely wear pants. Skirts are just much easier to put on. You may see her wearing a black jacket from time to time. It would most commonly be paired with a white shirt. For her shoes, she would wear easy slip-on sneakers with some simple, shin length, black socks.

History: Aya was born into a good and happy home in the Moon City of the Kingdom of Starmine. However, Aya never got to know her mother, so, she was always growing up with her father. Her father didn't re-marry when Athena had to leave him. He just wasn't that kind of person. He loved Athena with all of his heart and he knew that he would never feel that way about any other person, or, erm, goddess. Anyway, when Aya was born, there was instantly something wrong with her. She was born with a spinal cord disease which would keep her paralyzed from the waist down. They did have surgeries for those kinds of things, but by the time Aya would be old enough to have it, there would be nothing that could be done about it. So, subsequently, Aya would be living her life confined to a wheelchair.

Despite being paralyzed, Aya enjoyed her life very much. Once her father discovered that she had edietic memory, he would start filling her mind with dozens of facts. Aya enjoyed them. She had always had a craving for knowledge and her father was a great help of satisfying that feeling. Of course, he would eventually run out of things to teach her, so Aya would learn things herself. She would spend most of her time reading books and even getting to learn different languages. Greek was a language that she just somehow naturally knew, but she would also learn some other languages, like her father's primary language. It was called "Edhelan". Even if she didn't have her edietic memory, she would have learned that language anyway, but it helped greatly with learning it.

Aya, at the age of 17, decided that she would leave and go and live on her own without any help from anyone. Yeah, the help could be good at times, but she was fed up with people doing way too many things for her. She was just tired of it. She was 17 now. She was perfectly capable of taking care of herself. Her father had no problem with her moving out, so, that's what she did. She would still be living in Moon City, but she would be living in her own house, on a street different from her father, earning her own money, etc. So far, it has almost been a year since she set off on her own, and she's been doing pretty well.

RP Sample: Alina gave Assama another piercing stare. Marise asked Alina what she had found. Alina smiled, looking down. She then chuckled. She started talking about the Vollans being known for being passionate and strong willed. She studied an old story about heir clan and learned the existence of types of willpower. Where was she going with this? Alina then raised her hand and turned it around. It was a beautiful, pink gemstone ring. Then, a purple flame ignited from the gemstone. The flames were so beautiful. She said that with matching your inner energy, your willpower can be ignited into a flame. That flame seemed weird though. What Alina did looked like magic, but it didn't feel like magic.

Marise said that it was beautiful, but asked why it was so important. Alina said to be quiet and to listen. She explained about the early generations of the Vollans and how magic wasn't easy to come by. The people who had a matching ring, had an aptitude for a specific magical property. The flame represented an area on magic in which you are best suited for and that you excel at. She said that the strongest and best in tuned for to the flames were called the guardians and had an heirloom ring along with the roll in protecting the family. "Guardians?" Assama asked. She was wondering a bit more on who these guardians were.

Face Claim: Ayase Shinomiya - Guilty Crown