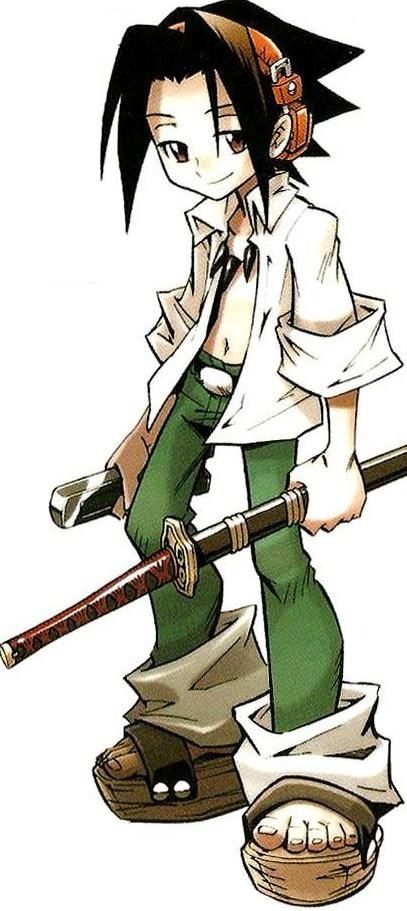 Name:
Mura Kensho
Birth Date:
03/10/X99
Age:
16
Special Characteristic:
He walks around with a red totem, formed as a daggert. (It can't deal any damage though)
Personality:
 He is usually a nice and friendly person. He always likes to be with his family and friends, if he ever gets friends, and takes most things easy. When things get difficult, he turns into a true warrior and fights until the last. He is usually a lazy block-head, when it comes to daily life. He will do what it takes to save those who needs to be saved and doesn't think about himself. He is very kind and helpful and wants to get many friends. His love for sword art and admire for sword artists gave him a great love for swords. He likes to fight with swords and knows a lot of swords from everywhere thorough the countries. His desire to become the best sword artist has given him a lot of motivation through his life. He sees the best in his friends and in most of other people around him and he doesn't like to judge.
Likes:


<#1>: Fun; he likes to have fun, especially with sword fights. He'd loved to clash swords since he was a little kid.

<#2>: Swords; he loves swords a lot. He has a great knowledge of swords and sword art, due to his family's skills.

Dislikes:


<#1>:  Poems; he thinks that poems are difficult and too much for him, so he usually gets annoyed when listening to a poem that he doesn't understand the meaning of.

<#2>: Evil; He despites the evil in people and doesn't like to be among them. Evil only leads to surrection, as he said once.

Fears:


<#1>: He'd always feared ghosts, because he can't chop them in battle, the blade will go right through them. He also heard many ghost stories that has marked him for life.

<#2>: Snakes are terrifying creatures to him. He still has a scar from a terrifying experience with them.

Motivation:


<#1>: He dreams to become the best samurai in the world, to surpass all the members of his family.

<#2>: To get to his goal, he will face many great opponents. Might as well have some fun! It's always amazing to face a great enemy and he never waves.

Height:
178 cm
Weight:
60 kg
General Appearance:
 His half-long hair is dark-brown and so is his eyes. He has a necklace with black teeth from an unknown beast. He usually wears a light shirt and his green pants are reaching down to his feet. Sometimes, he wears a black suit with orange stripes and black shoes. He wears a pair of big samurai-shoes, made out of tree. He also walks around with a little totem that he made out of a special, red stone type that he found one day. He has a scar on his back, which symbolizes the terrifying experience from a giant, brown snake.
History:
He was born and raised in the Kensho family that was made of generations of samurais, true warrios. Some of them were famous masters and Mura had admired their awesome skills. Since he was a little brat, he wanted to be as skilled a samurai as them. He trained with a little sword, made of tree, and swung it around the houses of his family every day. When he grew older, he was beginning to learn the basics of sword art and the way of the samurai by his mentor, Manda, to become a real samurai. But he needs to learn a lot yet. He was beginning to know the basics, but not the true art.
He and his father (his mother died very early in his life) went on a trip out to the mountains. The journey was long and harsh and they met wild animals everywhere. His father, Yuki, wanted to show Mura something. When they got to a cave, Yuki went in and after an hour, he came back with a strange, red stone. He gave it to Mura and told him to build a daggert totem out of it. Mura didn't know the purpose of this, but did as his father said and build a little totem. When he was done after a long time of building, up on the ice-cold mountain, his father said that he finally was accepted as a warrior. But he was just accepted, but not a full-fledged warrior yet.
Mura didn't really have any friends. Though he came from a known family, he wasn't really good to make any friends. He usually talked about swords and didn't know what else to talk about when hanging around. He always kept his dear totem with him, so he could prove that he was a real warrior. Though he wasn't a top-skilled warriori, he took pride in the totem and wanted to become the best samurai in the world.
RP Sample:
The sun was shining brightly down towards the town. Mura was sitting on a bench and leaned back, having nothing to do. It was very boring, he didn't know what to do and his sword lessons with Kyomaru started three hours later. He stood up and walked across the road. He could go home and watch some of his ancestors' old swords or he could go and meet other people. He was pretty shy with strangers, so he chose the first opinion.
When he knocked on the door, his grandmother opened. "Oh, hello dear Mura. What brings you here so sudden?" she greeted him, "your lessons first starts in two-three hours." Mura looked down for a moment, then he looked up and said: "Grandma, the time is very slow nowadays…" His grandmother immediately understood, what he said, but she laid a hand on his hair and said: "Be a good child and get Grandma some tea pockets. You can go and try out Hachi-sama's sword when you're back." He shone when she said that and went back to the town in an instant.
He walked in the usual store and began looking for tea pockets. He searched everywhere; shelfs, tables, boxes, but he couldn't find any tea pockets. He went to the cashier and asked her about the tea pockets. "I'm sorry, but we're out of tea pockets. We're about to ship them now. Come back later!" she said and that made Mura a bit depressed. He walked out of the store with his hands in his pockets and walked across the road back home. He saw some of the other children play around or talk about funny stuff. He felt a little lonely when he saw those groups of friends.
When he came back, he knocked on the door and delivered the bad news. His grandmother didn't get mad nor depressed, but smiled. He didn't really know why, so he asked her. "Well, I already have lots of tea. I bought most of it yesterday." She said and made Mura confused, "I just wanted you to get more social, you know, make friends." When Mura heard that, his eyes began to get soaked, but he hid it and walked into the house.
Face Claim:
Yoh Asakura - Shaman King